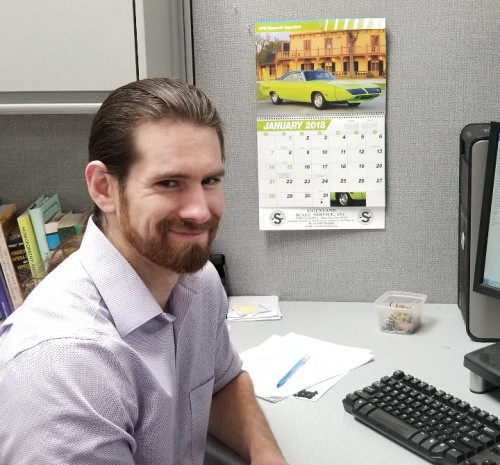 Ian Spohn, ND, is a staff naturopathic doctor for Energique who enjoys challenging the dogmas of both conventional and alternative medicine. He is a passionate supporter of the paleo diet and classical homeopathy.
Given the rapidly aging population, there is an increasing demand for methods to support healthy brain aging and address the changes in cognitive function often associated therewith. Also, as more of the labor force transitions from physically strenuous jobs to more cognitively demanding occupations, there is an increasing interest in so-called nootropic substances to support cognitive function in otherwise healthy individuals. Much of the focus within this realm has been on neuroprotective herbs and functional foods rich in polyphenols and other antioxidants, or in attempts to transition the brain away from glucose with various ketogenic approaches. One substance that is often overlooked in this regard, despite its playing a crucial role in the overall functioning of the nervous system, is the amino acid taurine. While it is the second-most abundant amino acid in the brain (after glutamate), it is typically thought of more as a supplement for heart and liver health, despite its showing incredible promise in a variety of nervous system disorders, where it may one day have the potential to play a therapeutic role. At the very least, taurine can support the function of nearly all aspects of the nervous system, from mood and cognition to peripheral nerve sensation. Below are some of the ways that taurine supports nervous system health:
-Mood Support: chronic stress has a terribly detrimental acute effect on the nervous system, precipitating changes in cognitive function associated with depression. Chronic stress can decrease the concentrations of serotonin, dopamine, and noradrenaline in the body, diminishing the experiences of contentment, motivation, and ability to focus, while increasing levels of excitatory glutamate and cortisol, making one feel irritable and withdrawn. In a rodent model of depression caused chronic unpredictable stress, taurine administration was shown to reduce these stress-related changes in the nervous system. It consequently reduced behaviors in the rodents associated with anhedonia, anxiety, and decreased motivation[i].
-Cognitive Function: there is now an extensive body of literature to show that taurine supports cognitive function, such as this study which found that taurine improved memory in rodent models of Alzheimer's disease[ii]. Recent studies into the pathogenesis of dementia suggest that the formation of amyloid plaques, responsible for the cognitive deficits associated with the disease, involves a disturbance in intracellular calcium levels as a consequence of oxidative stress[iii]. One of taurine's principal roles in the nervous system is to regulate and stabilize calcium channels. It has been shown to protect neurons from glutamate-induced excitotoxicity, the damaging effect of which involves dangerous influxes of calcium[iv].
-Nerve Conduction: taurine also supplies many benefits to the peripheral nervous system. Because taurine seems to modulate the excitation of neurons throughout the nervous system, its function in pain sensation and modulation has been thoroughly explored. One of the primary functions of the peripheral nervous system is to feel pain, or more properly to transmit signals to the brain which will be interpreted as pain. Pain plays a critical role in injury prevention, and it is only when nerves are not functioning properly that pain becomes pathological. Taurine's anti-inflammatory, antioxidant, and osmoregulatory properties suggest that it may be an effective way to support healthy nerve sensation and pain modulation. It has been explored in rodent models of diabetic neuropathy, where it has been found to restore normal conduction velocity and attenuate hyperalgesia[v]. Again, it seems to work by restoring normal calcium levels. While there is no clinical data to support its use in humans with diabetic neuropathy, it may be considered worthwhile as a way to support the health, integrity, and function of the peripheral nervous system in general.
-Membrane Stabilization: the entire nervous system is really nothing more than ions constantly flowing in and out of cell membranes. Healthy electrolyte levels are crucial to good neurological function – consider how hyponatremia results in seizures, or how hypercalcemia can produce tics and muscle cramps. Equally important is the ability of neuronal cell membranes to regulate the flow of these ions. Faulty osmoregulation across neuronal cell membranes can produce anything from muscle cramps to epileptic seizures. Keeping the flow of these electrolytes in check often comes down to maintaining a delicate balance of excitatory and inhibitory signals. While taurine has many roles in the nervous system, its main function would seem to be promoting osmoregulation and membrane stabilization. Taurine supplementation has been shown to reduce muscle cramps[vi], likely owing to this property, and can therefore be considered to help maintain the stability of the nervous system in general.
-Eye Health: the eyes are said to be the windows of the soul, but they can also be windows into the health of the nervous system. While medicine classifies the eyes as part of a system including the ears, nose, and throat, the eyes are actually specialized nerve endings of the second pair of cranial nerves, meaning they are actually a visible part of the brain. The eyes are also highly dependent on taurine, which is concentrated in the retina where it serves as one of its principal antioxidants. Cats, which unlike humans cannot synthesize taurine, rapidly go blind if it is not provided in their diet, and while humans can synthesize taurine, certain conditions like diabetes can decrease its availability. It is believed in fact that taurine deficiency plays a significant role in diabetic retinopathy[vii]. It may also play a role in glaucoma[viii], which would make sense given that taurine plays a role in osmoregulation. While taurine's therapeutic potential in eye diseases remains to be explored, it has an undeniable importance in supporting healthy eyes and vision.
Given taurine's multifaceted role in the central and peripheral nervous systems, it should be considered in any holistic approach to cognitive, psychological, or nervous system health. As a nutrient, taurine is especially important for diabetics, who often have reduced taurine levels, vegetarians, whose diets are comparably lower in naturally occurring taurine, and patients with liver disease, who may not metabolize taurine as effectively. When formulating a strategy for nervous system health, consider including taurine as a stand-alone supplement or look for a nerve health formula that contains high levels of taurine. As a supplement, taurine has been shown to be remarkably safe[ix] and given its numerous roles, may be more essential to humans than conventional understanding would deem.
[i] Wu GF, Ren S, Tang RY, et al. Antidepressant effect of taurine in chronic unpredictable mild stress-induced depressive rats. Sci Rep. 2017;7(1):4989. Published 2017 Jul 10. doi:10.1038/s41598-017-05051-3
[ii] Kim HY, Kim HV, Yoon JH, et al. Taurine in drinking water recovers learning and memory in the adult APP/PS1 mouse model of Alzheimer's disease. Sci Rep. 2014;4:7467. Published 2014 Dec 12. doi:10.1038/srep07467
[iii] McCarty MF, DiNicolantonio JJ, Lerner A. A Fundamental Role for Oxidants and Intracellular Calcium Signals in Alzheimer's Pathogenesis-And How a Comprehensive Antioxidant Strategy May Aid Prevention of This Disorder. Int J Mol Sci. 2021 Feb 21;22(4):2140. doi: 10.3390/ijms22042140. PMID: 33669995; PMCID: PMC7926325.
[iv] Wu, JY., Prentice, H. Role of taurine in the central nervous system. J Biomed Sci 17, S1 (2010). https://doi.org/10.1186/1423-0127-17-S1-S1
[v] Stuenkel EL, Stevens MJ. Taurine replacement attenuates hyperalgesia and abnormal calcium signaling in sensory neurons of STZ-D rats. Am J Physiol Endocrinol Metab. 2005 Jan;288(1):E29-36. doi: 10.1152/ajpendo.00168.2004. PMID: 15585600.
[vi] Vidot H, Cvejic E, Carey S, Strasser SI, McCaughan GW, Allman-Farinelli M, Shackel NA. Randomised clinical trial: oral taurine supplementation versus placebo reduces muscle cramps in patients with chronic liver disease. Aliment Pharmacol Ther. 2018 Oct;48(7):704-712. doi: 10.1111/apt.14950.
[vii] Froger N, Moutsimilli L, Cadetti L, Jammoul F, Wang QP, Fan Y, Gaucher D, Rosolen SG, Neveux N, Cynober L, Sahel JA, Picaud S. Taurine: the comeback of a neutraceutical in the prevention of retinal degenerations. Prog Retin Eye Res. 2014 Jul;41:44-63. doi: 10.1016/j.preteyeres.2014.03.001. Epub 2014 Apr 8. PMID: 24721186.
[viii] Ibid.
[ix] Jakaria M, Azam S, Haque ME, et al. Taurine and its analogs in neurological disorders: Focus on therapeutic potential and molecular mechanisms. Redox Biol. 2019;24:101223. doi:10.1016/j.redox.2019.101223
Any homeopathic claims are based on traditional homeopathic practice, not accepted medical evidence. Not FDA evaluated.
These statements have not been evaluated by the Food and Drug Administration. These products are not intended to diagnose, treat, cure, or prevent any disease.