Schisandra (also spelled schizandra) has long been known as an antioxidant, a bioactive compound that helps protect our cells against damaging molecules such as free radicals and reactive oxygen species. A recent study analyzing 70 herbs for their antioxidant potential showed schizandra to be one of the strongest antioxidant. Traditionally, schisandra has been used to protect the liver and brain from toxic damage. It also improves liver function, particularly the pathways the liver uses to neutralize toxins in the body. Schisandra also appears to activate the enzymes in the liver that make glutathione, one of the body's most important antioxidants. So not only does schisandra contain antioxidant compounds, but it also causes a cellular response that further increases our antioxidants.
Schisandra has many brain benefits in addition to protecting the brain from damaging free radicals. Schisandra may help reverse the effects of stress and anxiety. It has also been used for depression, irritability and even short-term memory problems. Schisandra was also traditionally employed to help expand awareness of the inner meaning of life. Schisandra is frequently used in herbal combinations for improving stamina, and it can also help some cases of insomnia. These two seemingly different effects are due to the fact that schizandra is an adaptogen, an herb used to modulate adrenal function. These adrenal nourishing herbs can help balance the output of cortisol, the stress hormone that in excess quantities can contribute to insomnia. Adaptogens are also used to help compensate for long-term stress and improve endurance, originally in athletes. These amazing qualities are combined with documented immune stimulating and inflammation fighting properties that make schisandra an incredible herbal ally.
You can find the benefits of this herb in Energique's Herbal Energy. Herbal Energy is a combination of schisandra, guarana, eleuthero, gotu kola, licorice root, muira puama, and bee pollen designed to support endocrine function to stimulate the nervous system, enhance vitality, and increase stamina.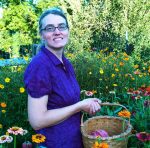 Dr. Laurell Matthews earned a bachelor's degree in biochemistry and a doctorate in naturopathic medicine from Bastyr University.
Any homeopathic claims are based on traditional homeopathic practice, not accepted medical evidence. Not FDA evaluated.
These statements have not been evaluated by the Food and Drug Administration. These products are not intended to diagnose, treat, cure, or prevent any disease.