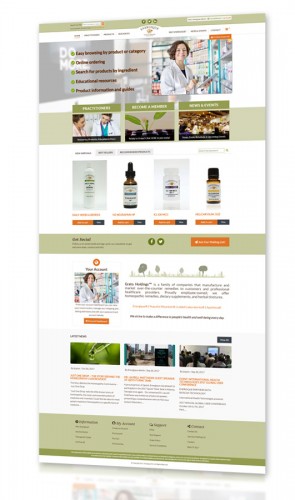 WOODBINE, IOWA – With a newly designed website, the holistic healing company Energique is partnering with natural health practitioners to provide high quality, effective supplements, herbal tinctures and homeopathic therapies for patients throughout the globe.
The new online shopping opportunity provides access to hundreds of remedies from Energique, along with a comprehensive guide for each therapy offered from its parent company, Grato Holdings.
"Although we've been an important part of the natural health industry for more than 30 years, our new website will make it even easier for naturopaths to connect their patients with the remedies needed to help them achieve health and well-being," said Mike Evans, Energique's chief operating officer. "It is part of our mission to provide the best customer service and therapies, and we are excited for this expansion."
Online, the website's rich experience includes the company's full catalog and therapeutic guide as well as continuing education and industry news. Practitioners will be able to connect directly with live, knowledgeable customer service representatives for easy ordering.
Founded in 1987 in Woodbine, Iowa, Energique is a trusted supplier of thousands of herbals, homeopathic remedies and nutritional supplements. Committed to the highest quality ingredients and state-of-the-art technology, the company is part of the Grato Holdings family of companies that includes Peaceful Mountain, Liddell Laboratories and Apotheca.
For more information, please contact:
Jana Taylor
800-869-8078
media@energiquepro.com