As I have said before about menopause, not every herbs works equally well for every woman. We have to look at the unique attributes of each herb and compare them to the experience of each menopausal woman. The herb I wanted to highlight today is motherwort. As the name implies this is a useful plant for mothers. Particularly, it is used for overworked mother who could use some mothering themselves. Among its other attributes, motherwort is calming and soothing to the nerves. It can help with insomnia due to anxiety, which I frequently see in mothers and other patients. Motherwort can also be useful as part of a protocol for hot flashes, but it is more likely to help those where anxiety and insomnia are also part of the picture.
As we begin to go through menopausal changes, our menstrual cycle among other things can go haywire. Premenstrual symptoms that we haven't had since our teenage years can return or completely new symptoms can arise. Motherwort can be useful here too. Motherwort can help relieve premenstrual tension and discomfort. Most menstrual cramps are partially due to inadequate circulation in the pelvis. Motherwort may help calm menstrual pain by both reducing spasms in the uterus and improving blood flow to the pelvis. Motherwort might work best for cramps that are accompanied by a scant menstrual flow and again where anxiety or stress is part of the picture. Motherwort needs to be used for several months for the best benefit. But please don't let the name motherwort mislead you into thinking this is an herb for pregnant women. It is not recommended during pregnancy since it can cause uterine contractions.
---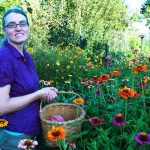 Dr. Laurell Matthews earned a bachelor's degree in biochemistry and a doctorate in naturopathic medicine from Bastyr University.
Any homeopathic claims are based on traditional homeopathic practice, not accepted medical evidence. Not FDA evaluated.
These statements have not been evaluated by the Food and Drug Administration. These products are not intended to diagnose, treat, cure, or prevent any disease.