Skullcap is one of the relaxing herbs that are native to the Southeastern United States. These herbs are known as nervines, and they both calm and tone the nervous system. Because of this calming effect, skullcap is used for mild cases of anxiety. Its active components have also been shown to bind serotonin receptors in the brain, so skullcap might be a good addition for other mood issues, such as nervousness with fatigue or depression. Skullcap can also help restless sleep and improve how deeply one sleeps. For sleep, it sometimes works better to take this type of herb a few times throughout the day as well as before bed.  We have an herbal blend with skullcap in it called Valericom that you may find useful.
Skullcap can also plays a role in herbal pain formulas. It has mild analgesic and inflammation modulating properties. Because it can also dilate cerebral blood vessels, it is indicated for headaches, especially those located at the base of the brain or forehead. It is also chosen for nerve related pain, like neuralgias. Skullcap may help reduce spasms and is used for some types of tremors. Because of its anti-inflammatory benefits, skullcap is combined with astringent and antiseptic herbs for use with periodontal disease. Finally, skullcap is a digestive stimulant that is particularly chosen for nervous stomachs.
---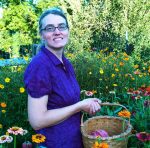 Dr. Laurell Matthews earned a bachelor's degree in biochemistry and a doctorate in naturopathic medicine from Bastyr University.
Any homeopathic claims are based on traditional homeopathic practice, not accepted medical evidence. Not FDA evaluated.
These statements have not been evaluated by the Food and Drug Administration. These products are not intended to diagnose, treat, cure, or prevent any disease.