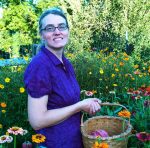 Dr. Laurell Matthews earned a bachelor's degree in biochemistry and a doctorate in naturopathic medicine from Bastyr University.
Supporting a woman through the menopausal transition can be challenging due to the myriad of different symptoms a woman might experience. Not only could there be hot flashes, but also a host of other potential issues like irregular menstruation, mood issues, and memory and libido changes. Because of this complexity and the difficulty of treating some of these issues, it is helpful to use multiple modalities, including lifestyle changes, herbal medicine, homeopathic remedies, and patience when the interventions need to be revisited to match each woman's unique needs.
There are many herbs that support healthy hormone balance. I usually start with a blend like Cohoshcom II™, which features black cohosh, motherwort, and licorice to support the health of multiple body systems as well as the female reproductive system. Black cohosh is one of the best-researched herbs for menopausal support and is traditionally used for a particular constellation of symptoms, such as hot flashes, moodiness, and body aches. Because of its benefits for healthy hormone balance and the brain, it may also support normal sleeping habits. This blend also employs the synergist support from herbs rich in phytoestrogens, for instance, red clover and licorice. Licorice along with black cohosh may help relieve symptoms such as vaginal dryness.
Another herb of note in Cohoshcom II is motherwort. During menopausal changes, the menstrual cycle, among other things, can go haywire. Premenstrual symptoms that weren't present since teenage years can return, or completely new symptoms can arise. Motherwort may help relieve premenstrual tension and discomfort. Motherwort supports uterine tone and might work best for discomfort or hot flashes that are accompanied by a scant menstrual flow and where anxiety or stress is part of the picture. Traditionally, motherwort is used for overworked mothers who need nervous system support. Among its other attributes, motherwort is calming and soothing to the nerves, so it may help with occasional sleeplessness due to nervousness.
Cohoshcom II can be used in combination with other Energique® products for more comprehensive relief of symptoms associated with menopausal changes. The addition of homeopathic support can stimulate the body's innate healing abilities to reduce symptoms and improve well-being. Among the most popular products for women's health are Estrogen Phenolic and Progesterone Phenolic, indicated for temporary relief of symptoms such as moodiness and hot flashes.
To support the changing body further, I frequently recommend a comprehensive multivitamin, such as Enervimin™ Menopause Focus a highly absorbable vitamin and mineral blend designed to help support a healthy menopausal transition. It provides 400 milligrams of magnesium, which was shown in a study to reduce the frequency and severity of hot flashes.
For lifestyle support, encourage a healthy diet, exercise, and adequate sleep. Thirty minutes of exercise most days of the week can help improve menopausal symptoms plus help prevent heart disease. For diet, discuss possible vasomotor symptom triggers such as sugar, alcohol, and coffee. Encourage the consumption of high fiber foods and liver-nourishing foods, such as artichoke, lemon, burdock, and beets. Beans and ground flaxseeds are not only good fiber sources but can provide phytoestrogens to help ease menopausal distress.
While the menopausal transition can be challenging for our female patients, employing multiple modalities to treat the whole person can lead to happier patients and less frustrated clinicians. Remember to nourish related key body systems, such as the nervous system and liver, along with the female reproductive system for a whole body approach.
Any homeopathic claims are based on traditional homeopathic practice, not accepted medical evidence. Not FDA evaluated.
These statements have not been evaluated by the Food and Drug Administration. These products are not intended to diagnose, treat, cure, or prevent any disease.