Energique® is proud to announce a new spagyric herbal formula we've affectionately named "Moodivate."  (If you aren't yet familiar with our spagyric process, you can learn more about its history and efficaciousness here.)  As the name would indicate, we have formulated this unique blend with the goal of helping your patients maintain a healthily balanced mood.
As we all know, regulating a stable mood has never been a simple equation as it is influenced by traditionally recognized challenges such as genetics, hormones, nutrition, stress, and troublesome life circumstances. Emerging evidence also indicates that mood variations might be an early warning sign for dementia or heart disease. This makes sense when we examine the common links between these issues, such as inflammation and toxicity.
Our increasingly toxic world has neurological consequences that correlate with mood health:
Lower antioxidant concentrations and increased signs of oxidative stress in the brain.
Increased inflammatory processes and cytokines activated by increased levels of Nuclear Factor Kappa B.
Increased signs of mitochondrial dysfunction and decreased ATP production.
Declining numbers of neurons in certain regions of the brain have been correlated with free radicals and oxidative stress.
Because of all of these considerations, we understand that approaches that only focus on healthy serotonin balance can be insufficient to promote positive mood.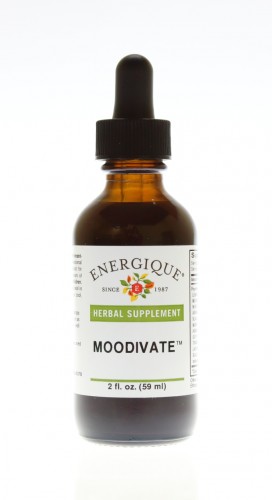 This is why Energique Moodivate combines lemon balm, St. John's wort, ashwagandha, and black cohosh to both help support a healthy mood and protect the nervous system.
Since not all mood imbalances are related to variations in serotonin, we blended herbs that support healthy mood through multiple mechanisms.
Lemon balm is well known for its contribution to a sunny disposition.
Mulungu is a traditional rainforest botanical used for moodiness and anxiety and may support GABA production.
St. John's wort is one of the best-studied herbs for positive mental outlook.
Ashwagandha is well known as a mood-supportive adaptogen that also promotes endocrine health and feelings of vitality.
Black cohosh is traditionally used for melancholy as well as for healthy hormone balance.
Featuring additional neuroprotective herbs known for their mood-supporting properties: muira puama, Asian ginseng, gotu kola, and turmeric.
Plus our regional superfood aronia, also known as black chokeberry and prized for its antioxidant content.
All topped off with a hint of cinnamon for a refreshing flavor.
These statements have not been evaluated by the Food and Drug Administration. These products are not intended to diagnose, treat, cure, or prevent any disease.